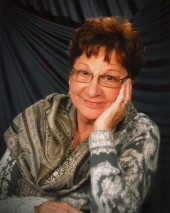 Monique Brown, age 73 of Breckenridge Texas,passed away Wednesday, Dec. 25, 2013. Funeral services will be held at 10 a.m., Monday, Dec. 30, at First United Methodist Church with Rev. Cal Hoffman officiating. Interment will follow in the Harpersville Cemetery under the direction of Morehart Mortuary. Visitation will be held from 5 p.m. to 6 p.m., Sunday, Dec. 29, at Morehart Mortuary.
Monique Andree Jeannine Porcheron was born Oct. 8, 1940 in Evreux, France to parents, Andre Louis Porcheron and Madeline Marie Mariette Porcheron. She worked in the Civilian Personnel Department as the Chief of French Personnel at Dreux Air Base. While working there, she met and married Jerry D. Brown on Nov. 23, 1963 in Garel, France. The Browns lived in France until 1967, when Jerry was transferred to Georgia. They were stationed in Tachikowa, Japan, Vietnam, California, Illinois, England and Altus, Okla. before Jerry's retirement in 1981.
During Jerry's service, Monique was an active member of the Officers Wives Club and she organized many social gatherings. After Jerry retired from the Air Force, their family made their home in Breckenridge and Monique enjoyed working at The Hat and Gown for several years.
She was a dedicated member of First United Methodist Church where she served on the administrative board, PPR committee, as Turkey Dinner co-chairman and was involved in the Children's Chest and Feed My Lambs ministries.She often volunteered for many things at the church, including visiting shut-ins and residents at the nursing home. She was a Girl Scout leader for many years, member of the Woman's Forum, a board member at the Breckenridge Fine Arts Center and a docent at the Old Jail Art Center in Albany.
She was preceded in death by her parents; her brother-in-law, James Bennett and her nephew, Jimmy Bennett. Monique is survived by her husband, Jerry D. Brown of Breckenridge; one son, Patrick Brown and wife Salina of Salado; one daughter, Nathalie Blades of Breckenridge; one sister, Christine Bennett of Littleton, Colo.; four grandchildren: Gaje Blades, Quade Patrick Brown, Liberty Monique Blades and Wrook Eubanks Brown.
Memorials may be made to First United Methodist Church and may be left at Morehart Mortuary. Condolences may be made online at www.morehartmortuary.net.

Return to In Memory Of

Return to Home Page