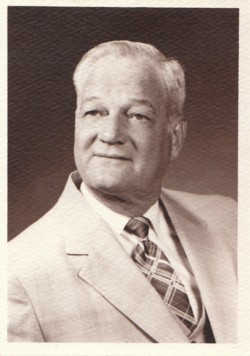 James Westfall
James S. Swingle Westfall passed away from complications due to bone marrow disease on Sunday, July 6, 2008 in Abilene, he was 83 years old.
He was born on July 10, 1924 in a 2- story house on the Pocomo Creek, in Kingman, Kansas. He James was the fourth child of Earl and Grace Kennedy Westfall. Mr. Westfall received a high school diploma from Kingman High School.
entered the US Air Force as a pilot in 1943. After completing his flight training at several Texas locations in August 1944, he was assigned to fly freight, troops, and aircraft mostlyin support of the Chinas Nationalist government until he was released in 1946. In 1953, he was recalled to active duty to serve during the Korean War build-up, and was assigned to a unit of the Military Airlift Command MAC in Smyrna, Tennessee.
In 1955, he was assigned to a MAC squadron at Dreux AFB in France. During this 4-year assignment he piloted crews that delivered troops and supplies in response to conflict in Beirut, Lebanon, and piloted the first US crew to enter communist Poland following World War II.
Upon returning to the US in 1959, Mr. Westfall was stationed at a Strategic Air Command SAC post in Plattsburgh, NewYork, where he refueled B-52 bombers. In 1963, he was assigned to Hickam AFB in Honolulu, Hawaii, where he served in search and rescue missions, including recovery of several Gemini space capsules. He reached the rank of Major, and retired from active duty in 1970 at Dyess Air Force Base. ,
Mr. Westfall enjoyed band and military music, US and world history, and loved the United States and its legacy of peace and freedom to the world. He was grateful for the freedom he had gained over alcoholism, and for the healing he had received through AA, his relationship with Jesus Christ, and through the love and affection of so many friends and family members.
Survivors include: two sons, James Lake Oswego, Oregon and Robert Fayetteville, Arkansas; four step-sons, Jimmie, Jackie, Ronald and Troy Henderson, and step-daughter Carlene Smith Abilene, and one sister, Martha Alford, Joplin, MO. He is also survived by one grandchild Paul Westfall Seattle, Washington, and several step-grandchildren.
Two wives, Virginia Fairchild, and Janie Henderson, and one son, Mark, pre-deceased him.



Return to In Memory Of

Return to Home Page