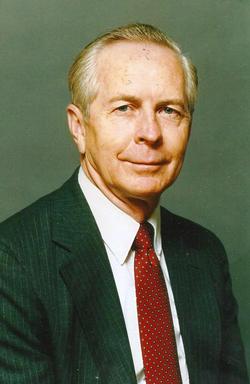 James Barr
Colonel Barr served at Dreux in the late 50's early 60's. He was a Captain in Headquarters Squadron 60th Troop Carrier Wing.
James A. Barr, Colonel (retired) of Fayetteville Pennsylvania.

James A. Barr passed peacefully into God's embrace on October 25, 2015, secure in his faith and surrounded by his loving family.
Colonel Barr is survived by Mattie, his cherished wife of 61 years; brothers, Sam of Cleveland, OH, and John of Dallas, TX; sons Greg of Las Vegas, NV, Sam of Fairfax, VA, Ron of Huntsville, AL, and Jim of Mount Pleasant, SC; daughters, Sandee Miller of Broad Run, VA, and Susan Harris of The Dalles, OR; 12 grandchildren; and seven great-grandchildren.
Colonel Barr was predeceased by his parents, Alex and Carmella Barr; and sister, Marie Mehall.
Born in 1931 in Beaverdale, PA, and a boxing Golden Gloves champion while in high school, Colonel Barr graduated from Penn State University in 1953, where he earned a B.S. in Chemistry and a commission in the U.S. Air Force, lettered in boxing, and made lifelong friends as a member of Chi Phi Fraternity. Following pilot training, where he met and married Mattie,
Colonel Barr flew dozens of Air Force aircraft, accruing 6000 flying hours as a Command Pilot in troop carriers (C-119) and strategic bombers (B-47 and B-52). Assignments included Dreux, France; U-Tapao Royal Thai Navy Airfield, Thailand; and Lockbourne (now Rickenbacker) Air Force Base in Columbus and Wright-Patterson Air Force Base in Dayton, OH. Colonel Barr's medals included the Bronze Star and the Air Medal.
After the Air Force, Colonel Barr served for an additional decade in public school and state offices, including PennDOT Cambria County Manager, Prince William County, VA, School System Director of Maintenance, American University Director of Maintenance, and Conneaut School System Director of Maintenance and Transportation.
Following retirement, Colonel Barr traveled, became an avid golfer, served as a Big Brother, and enjoyed his St. Paul United Methodist Church family. And he rarely missed a Penn State football game. Colonel Barr was a member of the American Legion and a lifetime member of the Veterans of Foreign War.
A viewing will be held from 2 to 4 p.m. on Wednesday, October 28, 2015 at the Kelso-Cornelius Funeral Home, 725 Norland Ave., Chambersburg, with a funeral service held at the St. Paul United Methodist Church, 730 Norland Ave., Chambersburg at 11:00 a.m. on Thursday October 29, 2015 with the Rev. Rick Noll officiating. Inurnment at a later date will be in Arlington National Cemetery.

Return to In Memory Of

Return to Home Page