Harry Charles Besancon
Cullum No. 12280 - Nov 10, 1994 - Died in Brunswick County, SC
Interred in Arlington National Cemetery, Arlington, VA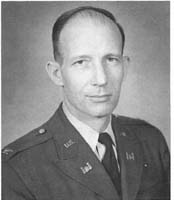 Born on 3 March 1918, of second generation French immigrant parents in northwestern Ohio, Harry Charles Besancon obtained a Congressional appointment to the U.S. Military Academy following graduation from Stryker High School, Stryker, Ohio. The Academic Department never challenged his abilities, and for four years he freely gave of his talents coaching less-gifted fellow members of "B" Company, the Old Survivors.
Following graduation, Lieutenant Besancon quickly transitioned from Corps of Engineers training maneuvers in Louisiana to combat construction during World War II with the 46th Engineers in the South Pacific. From Australia to New Guinea, through the Solomons and Gilberts, from first lieutenant to lieutenant colonel, Harry fought on to victory and the occupation of Japan. For this service he was awarded a BSM and LM.
In 1947 he earned a master's degree in Civil Engineering from Iowa State University, and then served in the Chief of Engineers Office in the Pentagon. Here he met his wife, Sadie "Kay" Unrue, while attending evening classes at the Washington Bible Institute.
Harry continued his military service by commanding Engineer Aviation Groups in postwar France and Germany. Following his European service, he was Project Engineer for construction of the "Old Hickory Dam" in the Nashville District, Corps of Engineers. He then commanded the 79th Engineer Construction Group at Fort Belvoir, Virginia. Finally, he was Chief of Staff of the Army Weapons Command at Rock Island, Illinois, retiring in 1969 in the grade of colonel after 28 years of distinguished service.
In retirement, he successfully embraced a number of other careers. Licensed as a registered professional engineer in Illinois and South Carolina, he worked as a consulting engineer in Vietnam during the volatile final years of that war. He then built, in partnership with his wife, a highly successful business and provided an important service in the locally well-known North Charleston Christian Book Store. Additionally, throughout his post-Army years, he generously donated his engineering expertise, craftsmanship and labor to countless construction projects for charitable organizations, ranging from a school building in Charleston for the Ferndale Baptist Church to retreat centers in Pennsylvania and Colorado for the Officers' Christian Fellowship, an organization for which he was a founding member.
Distinguished soldier and engineer, caring and loving grandfather, steadfast brother, father, husband and friend, his surviving family includes his wife, Sadie Katherine Unrue Besancon, of Charleston, South Carolina; one daughter, Marie Besancon of Los Angeles, California; two sons, Michael of Anchorage, Alaska, and Charles of New Bern, North Carolina; one sister, Clementine Hill of Toledo, Ohio; four brothers, Paul of Houma, Louisiana; William of Toledo, Ohio; Richard of Elgin, Illinois; and Robert of Charleston, South Carolina; and a host of friends from all walks of life.
Build thee more stately mansions, Oh, my soul,
As the swift seasons roll!
'Till thou at length are free,
Leaving thine outgrown shell by life's unresting sea!

Return to In Memory Of

Return to Home Page