12th Troop Carrier - Charlie Simms
Murals in 12th Troop Carrier Mess Hall
Charlie was a artist as well as a mechanic in the 12th Troop Carrier Squadron. He painted the murals on the12th Troop Carrier Mess Hall.
He painted nose Art on the C-119's. The only example we have is from John Traficante airplane.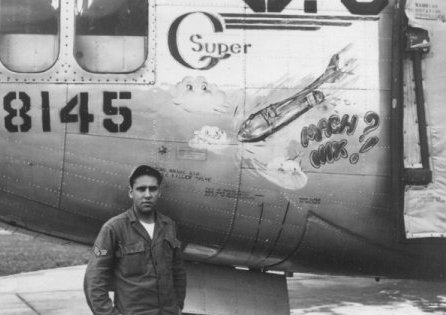 Traficante's C-119
From The Times Picayune:


Charles Simms
SIMMS
Charles Simms Jr. Visual Artist and Retired Postal Service employee departed this life on Saturday, November 17th, 2012 at Tulane Hospital, at the age of 75. He is preceded in death by his farther Charles Simms Sr. and beloved mother Louise Witherspoon Simms. Loving husband of 50 years to Lula Mae Sullivan Simms; Devoted father of Charleston Simms (Desiree'), Charlinda Matthews (Avery), and Cheyra Tennette (Korey); Grandfather of Chaz M. Simms, and Addisyn M. Matthews; Brother of John Simms and Cynthia S Vaughn; Devoted cousin to Connie Whitehurst; also survived by a host of nieces, nephews, other relatives, and friends. Relatives and friends of the family, also members and associates of the National Conference of Artist, and the New Orleans African American Museum of Art, Culture and History, students of Booker T. Washington High School class of 1956, students and employees of Southern University at New Orleans, and employees of the United States Postal Service are invited to attend a celebration of life at Charbonnet - Labat - Glapion Funeral Home, 1615 Saint Philip Street on Saturday November 24th at 12:00, followed by a jazz procession to Saint Louis Cemetery #2.
Charles Simms was born in New Orleans on December 18th 1936, and grew up in the Lafitte housing project in Treme'. Before he reached his teens he had met and grown close to Lula Mae Sullivan also from the Lafitte housing project , who he would marry and share his life with for more than 50 years. Simms is an artist, and his talents showed early. Armand Olivier, who grew up with Simms, remembers that "he was always talented, always creative." He studied art, and spent a year in Paris in the military. He returned home completed his Fine Arts degree at Southern University in New Orleans, and used his skills in a lifelong career in the Post Office.
Charles has been a painter all his life. "I paint, but I have never sold a single painting, not one, primarily to keep them together as a complete collection". Many in the African American art community consider Charles Simms a significant artist, at the very least a major regional painter, and perhaps more. Charles Simms's art spans numerous themes to include the striking kinetic style of young black girls in school uniforms playing Double Dutch in front of the Desire housing project, or performing on stage at school shows; ordinary people going about their lives in and outside of McDonald's restaurants; abstractions with narrative elements; and images of New Orleans celebrations, traditions, and contradictions. He was an artist whose work celebrated daily life... good, bad and indifferent, in the city that he loved, which means he was in a way essentially local, as immersed in a place as Van Gogh or Vermeer.
When Charles Simms was young he gave away a few paintings, and later found that they had been lost or given away. He refuses to sell his work not out of insecurity or fear of testing its value in the marketplace; in fact he has put off many offers to buy paintings. He had chosen to control his oeuvre, as a complete collection, a documentation of life as seen through the eyes of an African American living in New Orleans in the last half of the Twentieth Century. When you talked to Charles Simms you realized that he shared part of the deep mythos of his neighborhood: he remembered his childhood as a golden age, symbolized by the communal life around the neutral ground on Claiborne Avenue, and he felt deeply the loss of that age of innocence and celebration. But his work is not elegiac. He does not paint monuments of loss. What you come to understand, reflecting on his work is that he has chosen to paint, over and over, images of the joyous creative life that imbues New Orleans. Even his portraits of people at McDonalds are heroic images of triumph over circumstance. Simms has kept alive the spirit of place he experienced in his childhood (in the seemingly unlikely environment of a New Orleans housing project) in the moments he has chosen to portray in his paintings. The great artistic achievements of New Orleans - its music, its food, its buildings, its paintings, and its sculpture - are about New Orleans itself, and about the sheer exuberance of creativity. They are reflexive in the double sense that their subject is New Orleans, and that they celebrate their own creative spirit. Narcissism and exhibitionism are at the heart of the character of New Orleans but emerging from a matrix of discipline and skill. The great artistic achievements of New Orleans are also richly immersed in African heritage, but almost always marked by the fusion of what is African with European and even Asian traditions. Painting of the kind Charles Simms does is European in its antecedents, but the subjects it celebrates are urgently centered on the New Orleans African heritage. Freddi Williams Evans, in her recently published study of Congo Square, details the extent to which French and other European influences mingled with African dances and rhythms in the celebrations there. The complex identity of Treme' emerges from its being the most African place in American, and at the same time the most cross-cultural place, as rich in its European heritage as in its African heritage. The bohemian and racially tolerant quality of the French Quarter was absorbed from Treme', not the other way around.
Charles Simms represents the deep spirit of New Orleans and Treme', its fundamental creativity. His daily work as an artist for the Post Office was creative, and he designed his own home. And his chosen life work was an artistic celebration of his city. He stands with the carpenters, metal smiths, plasters, masons, and of course with the musicians who created the flourishing exuberance, the celebration of life itself, that uniquely bodies forth this city, and that is so deeply rooted in New Orleans.

Return to In Memory Of

Return to Home Page