12th Troop Carrier Squadron Charles (Chuck) Lunsford Obituary
Chuck was a radio operator with the 12th. He wrote a book about his tour called "Departure Message", which is highly recommended for people remembering the good old days. He will be missed by all.
From the Santa Fe "New Mexican"
Charles L. Lunsford Charles (Chuck) L. Lunsford, 76, of Albuquerque, New Mexico, passed away after a brief illness on Friday, September 21, 2012. A Memorial service will be at St. Mary's Episcopal Church in Albuquerque, NM at 2 p.m. on September 29, 2012. Interment will be at the Santa Fe National Cemetery on Monday October 1, 2012 at 2:15 p.m. Chuck was born on March 5, 1936 to Lawrence and Mary Lunsford in Terrero, New Mexico.
He attended high school in Santa Fe, New Mexico. In 1955, he enlisted in the United States Air Force and was trained as an airborne radio operator and was proficient with Morse Code. Chuck was assigned to the 12th Troop Carrier Squadron and later stationed at Dreux, France outside of Paris. While stationed in Druex, his missions took him to various parts of Europe, North Africa and the Mediterranean. After completing his enlistment he returned to Albuquerque where he met the love of his life, Sharon Van Auken, his wife of 47 years. Chuck worked at various locations in the Albuquerque area and spent 18 years with Garcia Honda before retiring. Before passing, he commented with pride that he had sold over 8,000 cars in Albuquerque in his career. Chuck never lost his passion for the Air Force, the lost art of airborne Radio Operators, nor his beloved C-119 aircraft.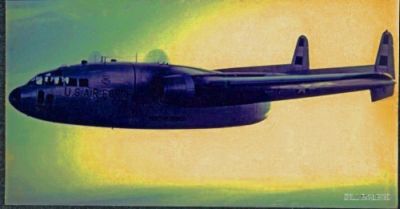 In his spare time, and well into his retirement, he became the go-to authority for C-119 history and trivia. His research eventually built a complete database of C-119 information allowing him to locate complete histories of nearly all C-119s just by referencing a tail number. In fact, his knowledge was instrumental in locating several C-119s used for the remake of the "Flight of the Phoenix". His name appears on the last line of the movie credits. He authored two books about his experiences with the United States Air Force and C-119s. "Departure Message" was a nonfiction account of his Air Force adventures, told in his own voice. He also authored an adventure novel titled "Boxcar Down", based loosely on his career in Europe. Chuck is survived by his wife Sharon; his son SGM Lawrence Lunsford and wife Christena of Ft. Bliss Texas; his daughter Valerie Benavides and her husband Hector, their four children, Joy, TJ, Christian and Stephen of Highlands Ranch, Colorado; and his sister Penny Chapman and her husband Wayne of Lawton, Oklahoma in addition to two nieces, 1 nephew and two cousins. In lieu of flowers, memorial contributions may be made in Chuck's name to the Paralyzed Veterans of America. Those of us that knew and loved Chuck will forever remember his infectious laugh and his never ending list of stories.

Return to In Memory Of

Return to Home Page