BY A/2C Sibert June 2017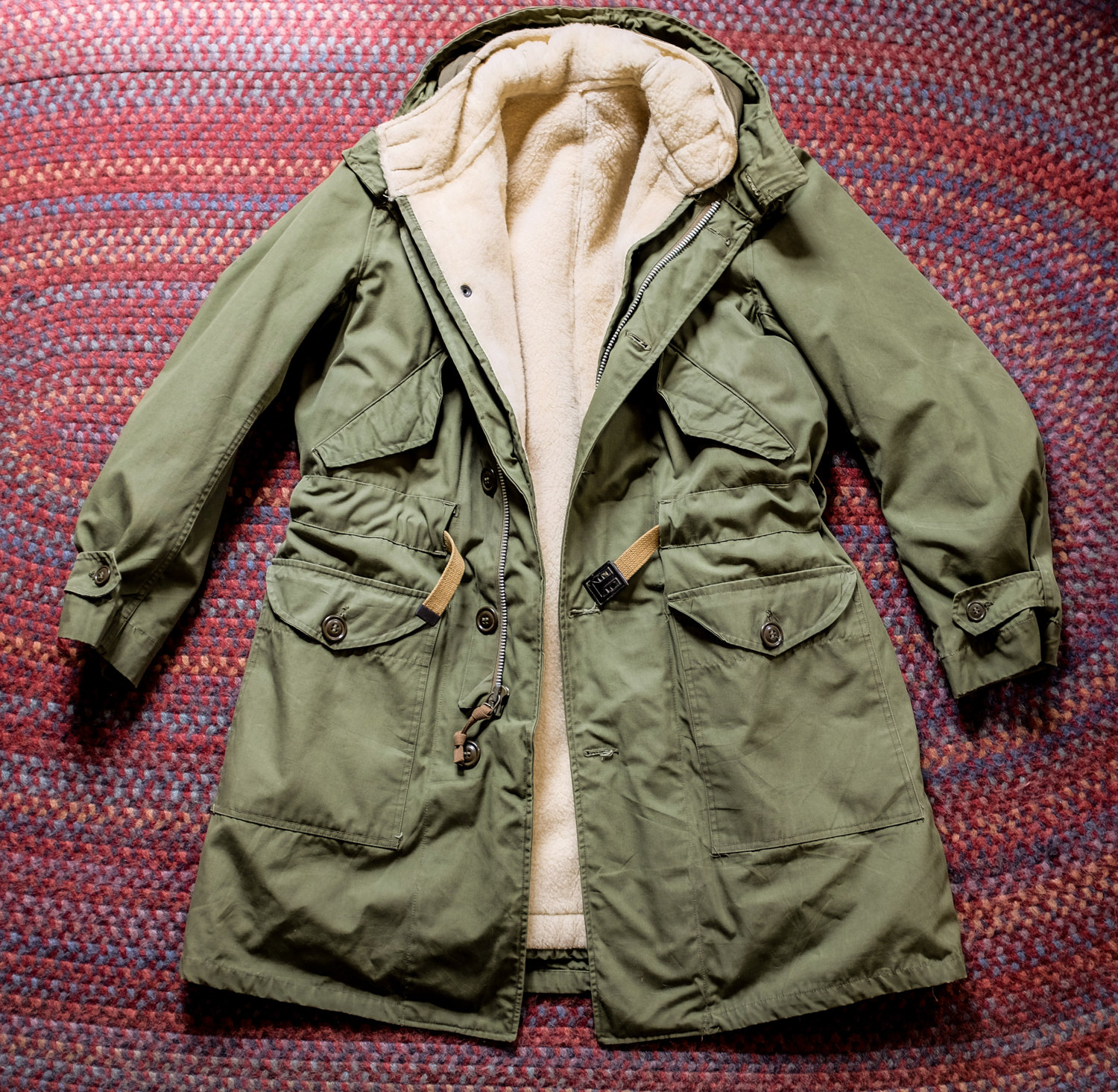 Parka
Well folks we'll begin in January 1960 when I arrived at Dreux Air Base, France from Incirlik Air Base, Turkey. It was the 12th day of January, a Tuesday.
After a train ride from Paris to Dreux City, about ninety minutes, a two or three block walk from the train station to find the route from Dreux City toward the base and flagging down a base supply 6X6 truck, I arrived at the base. You say, "what does all this have to do with a parka ? Just hold on, there just could be some younger folks reading this story.

The supply truck driver let me off at the half circle drive in front of the snack bar. I thanked him and said I'll see you around the base. As he pulled away I made my entrance thru the double outside doors that led to the hallway going to the library and snack bar doors. I opened the snack bar double doors and stepped down somewhat to the snack bar floor. I thought I heard the Everly Brothers singing on the juke box, "Wake up little Susie"
It was one of their top hits released in 1958.

I found a table to my liking and took off my rain coat, hat and class A blouse. Finally I was warming up as it was cold outside, maybe some 35 degrees. Now to get some chow and then I would find headquarters to sign into the base. I picked up a serving tray and made my way to the counter. Some 10 minutes later I had my cheeseburger, fries and a vanilla shake and was moving back to my table. You know, I was tired and hungry. After my meal I rested for at least 30 minutes before asking directions to base headquarters. My uniform back on I headed for headquarters to sign in.

Not far from the snack bar was the headquarters building and I stopped to salute the flags being lowered as the speakers atop headquarters blared. I entered and sought out the airman on duty and signed in officially to my new duty station, Dreux Air Base, France.
Barracks # 168 was assigned to me and help was provided to help me get my bed, bedding, and footlocker from the supply building next door to my barracks and upstairs to my bay. Barracks # 168 was located next to the south goal posts of the football field and my upstairs bay windows overlooked these goal posts.

Everything from supply now upstairs, I thanked the airman that helped me with it all.
I sat about getting my bed squared away and put my footlocker at the foot of the bed.
There was an empty wall locker against the south wall so I turned it facing my bed and took charge of it. I put my raincoat inside the wall locker and just sat on my bed thinking about what to do next.

I was given a temporary mess card when I signed in to the base. By this time I was getting hungry. I asked an airman I saw near the NCO club, how to get to the mess hall.
It was not far from the snack bar and hospital he said so off I went. I signed in at the mess hall and it wasn't crowded when I arrived. What a good meal I had and the quart of milk from Holland hit the spot.
Back in my bay the other two airmen that lived there were home. I sat on my bed and we talked. We exchanged names and I was given a rundown about coming attractions for Dreux Air Base. I spoke about my former duty station in Turkey. They filled me in on what to expect here in France. One airman was Jim Myers from California and I can't recall who the other airman was.

The next day Wednesday the 13th I reported to the office of Captain John Cottle in charge of aero repair. The NCOIC was M/SGT William Smith and his assistant NCOIC was S/SGT Howard Abshire. After a brief talk I was probably going to work in the hanger located at marguerite # 6 and be part of the rudder gang. Then S/SGT Abshire spoke to the Captain about my performance report. After reading the report over the Captain said A/2C Sibert is more qualified than anyone we have in that position now. What could I say, I just knew the report from Incirlik Air Base was correct and gave them a smile. I was to be part of the transient alert crew and would report here at 0800 hrs Monday morning the 18th the Captain said.

My hold baggage I hoped would already be at air freight or I would have to begin my duty Monday morning wearing my class A uniform. I found a ride to air freight and low and behold my baggage was there. I signed for my duffel bag and footlocker and got another ride to my barracks. An off duty airman helped me upstairs with my baggage.

The footlocker from Incirlik was placed at the head of my bed and soon my belongings were stored in my wall locker. Now dressed in freshly starched fatigues from my last duty station and boots tied on, I headed out for base finance. I was low on money but I soon got that situation squared away and all was put in order with base finance. Now I just walked about the base seeing what it was all about. We had had some C-119's from Dreux Air Base land at Incirlik Air Base, Turkey when I was there.

I ended up at my squadron supply building which was next door to my barracks. I had turned in my field jacket when I left Turkey and now I needed another one. I was issued a field jacket and a liner, not new but pretty close. I would in a few days have my stripes and name tag sewn on. I had seen airmen about the base wearing a parka. It was the GI Korean war type. I inquired about a parka for my use. The supply airman told me he was fresh out of them at this time but some would be in supply in about three weeks.

Monday rolled around and I showed up at the main hanger for work. I was pared with another airman for a week and then I was on my own. Twenty four hours on duty and forty eight hours off, just like at Incirlik Air Base, Turkey. The only thing different was hardly any air traffic. Some days on duty I wouldn't get dirty at all. Some of the airmen in base ops told me I needed to speak with the chaplain about being bored. (Smile)

When I started working alone I spied a parka hanging in a corner of the main hanger. It was somewhat dirty and had a few tears and small holes in it. The longer I watched that parka I became convinced that no one used it. Why should I be denied a parka to wear on these cold days I pondered ?
One night while on duty, I peaked in the area where the parka was hanging just to see if it was still there. Low and behold there it was hanging with more dust on it than before.
I walked up to the parka took it and began that night to use it for myself.
I took a broom and swept the dust off my parka. I was cool then. (Ha, Ha)

Some weeks later I got the news that a supply of new parkas were in stock.
So one day I went to supply to get me a new parka. I tried some new parkas on for fit and was signed out as having one. Back up to my barracks bay I stored the new parka in my wall locker. No, I did not wear the old one to supply. In fact while at the base I never wore the new one or even showed it to anyone. When it was very cold I wore the old one.

No one ever asked me about the old parka and I never said a word about how I got it.
When the time came around to rotate from Dreux Air Base, France back to the states I still had two parkas. When I cleared the base in March 1961 I turned in the older parka along with the field jacket to squadron supply. I told the airman on duty about the parka and he said I only need one parka from you and you turned in one so you're cleared. I tried to pass it along to some other airmen but most I talked with lived in warmer climates. I picked up a small wooden crate around the base somewhere to pack clothes in and put the parka in it along with my items to send home.

This is the story of two parkas as it was some fifty six years ago. I still do not like extremely cold weather. Yes, that same parka I sent home in 1961 was still being worn on the very coldest days found in the winter of 1988/1989.

I had found a parka hanging in the main hanger on a hook at Dreux Air Base, France in January 1960 for me to use. Now someone took the parka I sent home from France in 1961 that hung on a hook on my back porch, one spring day in 1989. Who did it I'll never know.


Who would know, this same parka could still be in use on cold winter days ?