Airman Ernest Leroy LeFlore at Dreux Air Base 1960 By A/2C Sibert
I recall meeting up with Ernest Leroy LeFlore an Airman at Dreux Air Base in 1960. He lived I believe in the barracks between Bill McLeod's and mine located on California Avenue. Some will recall that this avenue ran north and south past the football field and on south to the AFEX gas station. At this junction with another street running east and west (we need its name) across from the Gas station was Bill McLeod's Barracks. My barracks was overlooking the south goal post of the football field.
To this day I do not know just what LeFlore did at the base when he arrived. He had an AFSC but what was it? Some who will read this story I hope, can recall something about him. Some of the Airmen who knew LeFlore told me he was a very sharp Airman when he got to the base. He could have been an A/1C but I'm not sure of that. Any way when I recall LeFlore It was later in 1960 and he had been busted to Airman Basic. Ernest always talked to me when our paths crossed about the base. I even have a photo of him in my pictures album on this site. I recall I did not ask of him, what had happened for him to loose his stripes. All he would say to me was "I'll get a bad conduct discharge and be out of here soon". I recall Ernest dancing with the French gals who were brought to the service club from Paris each month for chit chat and R&R. I looked in once in a while but did not dance at that time. Did Ernest dance every song, some said he did.
From what some guys told me Ernest began to take trips to Paris and not return to the base when he was supposed to. How many times did this happen, I do not know. This is what caused LeFlore to be busted and confined to the base. While he was waiting for his court marshal he told me he did all sorts of details. I would see him around the flight line covered in de-icing fluid some early mornings after cleaning some C-119s of ice. I do recall Ernest saying to me one time "I'm going home to Muskogee, Oklahoma and be a farmer and the Air Force can just kiss my rear". Sometime before I left Dreux Air Base I needed some new dog tags and went to the Provost Marshal building for them. Ernest was the guy who stamped out my new dog tags telling me it wouldn't be long before he rotated to the states. Was this late 1960 or early 1961, I just can not recall. Someone help me with this.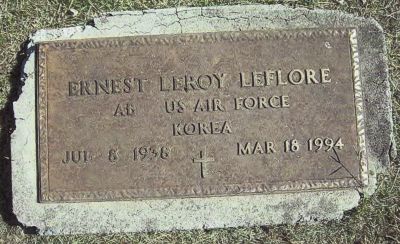 In searching for Ernest Leroy LeFlore I had the help of Vicki Key (Dreux High school Alumni) and she found that an Ernest Leroy LeFlore had passed on March 18th 1994 in Langley, Mayes County, Oklahoma and was buried in Ketchum Cemetery, Craig County, Oklahoma. See his grave marker in this story. The marker says AB (Airman Basic which he was) Ernest Leroy LeFlore US Air Force. Also there is a reference to Korea on the marker. Could be Ernest did a one year tour in Korea before coming to Dreux Air Base? I hope someone will read this story and send any corrections that are needed to the web-site.
I only wish I could have found Ernest alive for this story.
A/2C Sibert


Return to Memories of Dreux

Return to Home Page