It was just a few weeks after A/1C Jerry, what was his last name, and I took my first and last trip to Momma's bar. The gals had been bugging us to take them to the base. Jerry had a light colored beige 4 door Simca auto. I believe he purchased it from someone at Dreux Air Base. I can recall it was a clean and good running car. But first here's what happened at Momma's bar.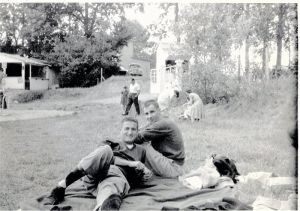 Chuck and Jerry at Swim Lake
You can see Jerry's photo with me at the swim lake near the base in my pictures, some with the gals from Paris. We drove out the front gate one early July afternoon in 1960 and at the end of the entrance road we then turned right onto road # D-20. We drove past the swim lake not too far ahead on our right and headed on to Momma's bar located in a wooded area not far from Senonches. I had never been to this bar but Jerry had been a few times before our trip. I'll get back to the gals wanting to see the base shortly. Jerry and I walked into Momma's bar thru the front door and took a seat at the bar on the high stools. Jerry orders a cognac and so did I for he said it was a good drink. This was a first time for me. The gal bartender sits my glass in front of me about a third full and I take me a drink. Jerry says "wait for the Coca-Cola to mix it with it" my reply to him was it had a good taste. The Coke-Cola arrives and Jerry uses some in his glass and hands it to me. When I didn't use any he advises me that I should for the straight stuff is very strong. Well after three glasses of the straight stuff he has to take me outside to the car. You know I just couldn't walk alone to the car. I sure was tipsy. He put me in the front seat and headed back inside the bar. With my head outside the door I started to throw up and I was really sick. After a short time with my head hanging out the door and feeling very sick a large brown dog comes up and starts to lick my face. I was afraid to move and fearful so I just hung on with my eyes closed tight. I would say after a very short time the dog went on his way with me still not seeing too well. Later back at the base Jerry helped me up to my barracks bay. I was so glad to be off duty the next two days. The second day I still felt sick and my bay mates brought me something to eat from the snack bar that day also. Why didn't I listen to Jerry and mix my drink ? I found out that day that I wasn't a Superman !!!
Now back to the gals story Jerry and I would be asked over and over by the gals, if they could go to the base as he had a car for it. That day finally arrived one afternoon in July 1960.
Girls From Paris Arlette on the left and Caroline on the right
We drove out to pick up the two gals in Bigeonnette near Chateauneuf and I must say they looked very good. You sure could tell that these were not local French gals. Loaded up we all headed toward the base with the radio set on a French music station by one of the gals. Pulling up to the front gate guard shack we both knew the air policeman on duty. He looked in the car and got his eyes full, and waved us on thru. The next stop was at the snack bar. Slowly Jerry drove to it while the gals looked left and right and pointed here and there. The Simca was parked on the half circle drive in front of the snack bar. Jerry and I were both smiling big time as we helped the gals from the car. I held the building's entrance doors open for us and we headed for the snack bar doors which were across from the library door and ahead on the left. The doors were propped open as was the custom in the summer time. I must say there wasn't an open table for us in the front section on our left so we sat at a table very near to it on our right. From where we sat almost everyone seated could see us. Jerry sat with his back toward the front section and Caroline was on his left, I was across from her with Arlette on my right. Jerry and I went to the serving counter and ordered for all of us. We told the gals we would get them something good and American. We soon returned with Sloppy-Joe's, French fries, and Fountain Cokes for us all. After telling the gals what a Sloppy-Joe was we began to eat. With forks and knives the gals ate their meal and wouldn't hold the Sloppy-Joe buns with their hands as we did. We tried to get them to eat as we did but to no avail. All of us had a laugh about this. I would say every GI in the place was trying to cop a look at the good looking French gals we had with us. Of course the gals were giving everyone a look over also. We were in no rush to leave and had refills of our Fountain Cokes, just talking and enjoying the good times. This was the first time, the gals told us, that they had been around so many Americans and they were enjoying their visit. I think we were there at the snack bar at least one and a half hours.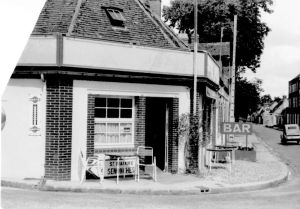 Susie's Bar at Chateauneuf
Finally Jerry and I decided we all would leave and drive over to Senonches and back around to Chateauneuf and visit Suzie's bar before taking the gals back to their house in Bigeonnette. The car parked we all went into Suzie's for a drink and listened to the juke box for about 45 minutes. The Gals said they had a very good time and would like to do it again. Jerry and I said our goodbye's at their house and headed out for the base. On the way we had a gleam in our eyes just thinking about how good our day had been. For the next few weeks we were bombarded by GI's with every question imaginable concerning the two lovely young French gals that they saw us with in the Dreux A/B snack bar.