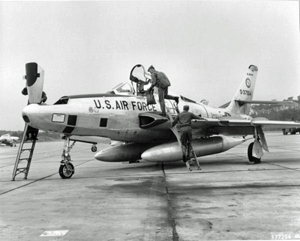 RF-84F of the 117th TFW
Some will say - Just who is this Buddy Love and please tell us more about him. You see A/2C Walter E. Love Jr. was a member of the Alabama Air National Guard called up during the Berlin crisis in 1961. His Guard unit, some 1,000 strong, was sent to France and stationed at Dreux Air Base. At that time in 1961, Dreux Air Base had pretty well been relieved of all its former Airmen and was in stand-by status. Some tell us maybe only a 185 plus contingent of Officers and enlisted airmen kept the base alive then. The 117th Tac Recon Sqdn of the Alabama Air National Guard flew the RF-84F swept wing fighter jets. These RF aircraft took photos and did not have guns.
Buddy says some 20 planes came by way of the Azores Islands to Dreux Air Base and were in-flight refueled over the Atlantic Ocean. Buddy says all the other Air Guard members flew to Dreux Air Base aboard USAF Mats C-118's and came the northern route, Newfoundland, Prestwick, Scotland and on to Dreux Air Base in November 1961.
Douglas C-118 The Work Horse of MATS for Personnel Movement
He didn't say how Many C-118's made the trip to France. Well, when Buddy got off his USAF C-118 at the base he tells us there was confusion as to where he would sleep and take his meals. He and others were pointed toward near by barracks and to a supply building for their bunks and bedding. What a night it was, it really was. As the main mess hall, near the base hospital, was in stand-by status at this time, a mess crew from Evreux Air Base, north / east of Dreux Air Base was rushed to the base to get the mess hall up and running for some 1,000 plus airmen were mighty hungry by this time. All one has to do is type in Dreux Air Base France to read on line about the old USAF base and what the Guard found there in 1961. When A/2C Bill McLeod and A/2C Charles Sibert had rotated from Dreux Air Base in April 1961 things were not as bleak for them as for the Guard now.
The RF-84F Recon aircraft were not allowed to fly from Dreux Air Base (read about this on line) and were moved to another USAF base in France so they could fly. Many of the 117th Recon Sqdn Airmen stayed at Dreux Air Base and did what work they could do until they were rotated back to the states in August 1962. Now we can get back to A/2C Buddy Love and what we know about him and his stay at Dreux Air Base. Buddy tells us that he had a clerk typist AFSC and pulled a lot of KP at the mess hall. Things were to brighten up for Buddy when one day he boldly walked into the Aero Space Motor Pool office and proclaimed he needed a job.The person in charge and on duty that day told Buddy to take the empty office space across the lot and begin to do the mail call and issue gasoline coupons plus other jobs.
Gas Coupon
Gas coupons:There was an AFEX gas station on bases where you could fill up at US prices. The French (as with all the Europeans) taxed gasoline very heavily and our gas guzzling American cars needed lots of fuel to keep them going. To keep prices on par with the costs "back home", the US had negotiated with the French government to lower the taxes. This was done through a contract with Esso, and to keep the finances straight you paid for your gas in advance at the BX and were given coupons that could be redeemed at any Esso station. There were three little glitches in this process, none of which was a real problem. First, the coupons were issued in liters, so you had to know how to estimate the amount of gas you needed in liters. Since the minimum denomination of the coupons was 5 liters, if your final bill came to less than some increment of 5 liters the gas station came out ahead. The second little glitch was that not every Esso station would accept the coupons. It had to have a "Quartermaster Approved" sign on the station or you were out of luck. Finally, France in 1962 did not have an overabundance of gas stations in general, much less Esso stations, so when you reached the quarter tank line, it was time to keep a lookout for the next Esso station. We never ran out of gas, but I seem to recall some pretty close calls. (Information from Doug Donnell)

Buddy tells us he sent for his wife then, Laura, and because he was only an A/2C he had to foot all the travel bills to get her to Dreux Air Base.
Buddy and His Volkswagon
Buddy tells us he bought a 1957 VW sunroof beetle bug from the lady who ran the base library for three hundred dollars.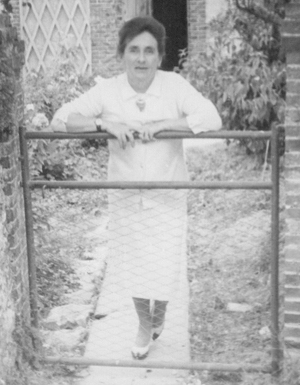 Madame Hoquetis, Base Librarian
He says the engine leaked oil and smoked some but he had wheels now. Read more about that later on in a following part of the story. Laura came over to France on the Queen Mary ocean-liner and Buddy got her a round trip ticket for three hundred dollars. Buddy was waiting for her at the La Harve, France coastal sea port when the ship arrived. The 57 VW bug got him there just fine. Now, here comes the Queen Mary and dropped her anchor out a-ways from the docks.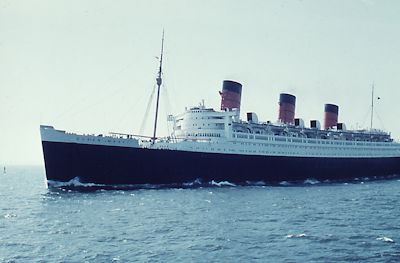 The RMS Queen Mary
Buddy gets on a small launch craft with others to go out and get his wife on the Queen Mary. So far, so good !! Buddy says he soon heard a call for all to re-board the launch and return to the dock area. He tried to tell someone in charge that he didn't have his wife yet, but to no avail. What will he do now ? There were many people on the small craft and as he pondered his next move he spots his wife, Laura, in the crowd. He rushes to her side and with hugs he tells her soon they'll be at the apartment in Maillebois he has rented near the air base. See all about this in Buddy's pictures album on this site.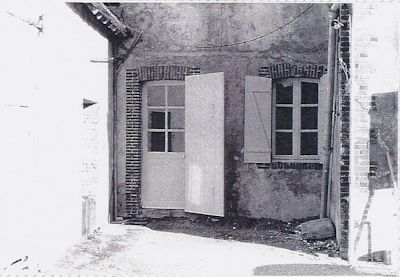 Entrance to Buddy's Apartment
Buddy needed a Freezer/Fridge for the apartment so what does he do now ? He says he had a friend in one of the warehouse buildings, so off he goes to see what he can get. He spots a brand new GE Fridge still in its new carton and his friend says "take it away and you can use that old French Citron truck parked near by"?. He also picked up an electrical converter to make the fridge work at the apartment and also some furniture. The Fridge and what else he has claimed now loaded, toward the main base guard shack and gate he slowly drives. Would the guard at the gate stop and ask him where he was going ? Buddy says he gave the guard his best smile and waved to him and the AP at the gate just passed him on thru. Now Buddy needs some goodies to store in that new Fridge. He has made friends with the mess Sgt at the mess hall due to many hours of KP he's pulled there. Thru the rear kitchen doors he is welcomed as just one of boys.
With Buddy's selection of steaks and other food stuffs from the mess hall, away he returns to the apartment in Maillebois. He says there were many, many, trips made thru the rear doors of this mess hall. Buddy and his wife are settled in the apartment in Maillebois and things seem to be going pretty well as winter comes on.
For only $50 a month it's home sweet home. Madam Olga who runs the Auberge de Maillebois is his landlord he says. Buddy tells us an oil heater he had at the apartment began to smoke up the place and he had to clean out the chimney before a fire could cause much damage. Just a small mishap, a little bump in the road. He says the French folks on base and in Maillebois treated him and his wife just wonderful. Buddy and his wife toured all around the base and even took the 57 VW bug and made a trip to Germany. He tells us he stopped by a VW work shop in Germany to see if something could be done about the engine oil leak problem. The friendly German VW specialist told Buddy he needed the car over night to reduce the oil usage and leaks and would rebuild the engine for him. Buddy asked the man what the cost would be for the repair. The man says only $35 and he can have the car back the next afternoon. On the road again the next evening the oil leaks seem to have been stopped but the VW does't have the speed or the power as before the repairs were done. Buddy tells us he thought the engine probably was tight after the repairs and hopes it will wear in soon. No such luck and when Buddy sells the VW to a USAF E-9 Master Sgt in Aug 1962 before rotating back to the states, the engine was still tight the way he tells it. To this day he remarks how that VW had a Paris license plate on it from the lady he bought it from. He says he got a paint job for that VW, for free, at the base motor pool, but the paint took some time to completely dry. Now about that GE Fridge that Buddy got from the warehouse, for his apartment in 1961. He says he thought about just leaving it at the apartment but took it back and gave it to his friend who gave it to him. Good for Buddy !! He says the auto & diesel fuel at the motor pool was sometimes pilfered along with the heating oil but did not know who took it, the Air Force or the French.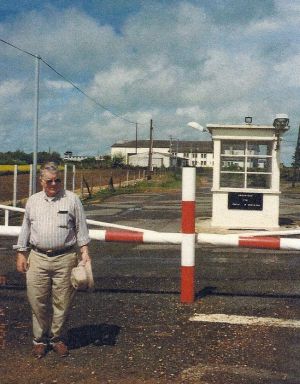 Buddy Outside the Main Gate
Buddy believes his barracks when he arrived was the same as mine, over looking the football field's south goal post just a short 20 yard walk west from the NCO club.
He also tells us there was a French Cafe somewhat near the Snack Bar/Service Club on base for the French workers to use and that he went there also for good meals and no one raised a fit.His meals cost him anywhere from 75 cents to a dollar fifty. Leave it to Buddy! Buddy's time finally came to leave Dreux Air Base in Aug 1962, so his wife returned by ship to the USA. Now Buddy tells us that he went back the same way he came with the Alabama Air National Guard aboard a C-118 Mats Aircraft. He says the C-118's came to Dreux Air Base every 8 hours or so to load up the men, equipment, and others for the return trip to the USA, taking the same route back as they had came there in 1961. Buddy called Maillebois by a nick name "Mailbox"? which I thought was right on.
Buddy and his 2nd wife "Zoopie"? returned to visit the old base and see Maillebois again in May 1997.You recall his days in France at Dreux Air Base as part of the Alabama Air National Guard.
I have talked to him by e-mail and phone sometimes for at least an hour. What he could tell us if we just had a day or two for a visit with him. This short story just scratches the surface and tells of a United States Airman and how he managed his time while stationed in France in 1961 and 1962. We hope to locate more Airmen who like Buddy, were part of the Alabama Air National Guard and spent some months at Dreux Air Base in 1961-1962. We hope this story about Buddy will be read by many and more former Airmen will send to us their stories and pictures. There will be a story about another Alabama Air National Guard Airman to be put up on the site as soon as we get more information and pictures from him. Keep your Eye's open.
This story was approved for the Dreux Memories web-site by Buddy Love on July 19th @ 17:45 Hrs by phone with A/2C Sibert

Return to Memories of Dreux

Return to Home Page